Capturing Media Attention
An imperative part of your small business marketing plan should be attracting media attention. Here are five great ways to get and keep their attention:
Start with an email: Pitching a media outlet for coverage of your small business should start with an email. Let the media outlet know who you are, what you do and why your business should be featured. With an email, you can attach a media kit (discussed below), include links to previous press coverage and a link to your website. You can't do any of this over the phone.
Create a Press Kit: A press kit a comprehensive collection of promotional material to brief media about products, services, etc. Think of it like a resume for your business. Contained in your press kit should be a collection of information including prior media coverage, high profile client list, menu of services or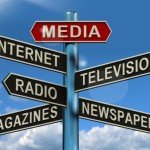 products, investors, FAQ's, awards, photos, charity involvement and anything else you think says a lot about your small business. Be sure to include an introduction letter as well. Remember, your press kit should be professionally developed. It will likely be the first impression you are making, make it count!
Reach the correct person: Randomly sending emails or press kits to a media outlets general mailbox won't hurt, but it could end up being a big waste of time. Do your research on the media outlet and decide which editors/writers/producers typically handle the type of media coverage you're seeking. Twitter is a great way to see who's doing what. Then, direct all of your requests directly to these people.
Create a media resource center: Create an additional page on your website that includes everything a media outlet would need when developing a piece about your company. This resource should include high resolution versions of product photography, company logo and headshots of key staff members. It is also a great idea to include a high resolution black and white version of your logo for non color publications.
Invite media outlets to your special events: Whether it's a new product launch, celebration or anniversary, let media know that they should attend by issuing a press release. Every event you host or participate in is a perfect reason for a press release. Just because a certain event may seem trivial to you doesn't mean that an editor isn't already searching for a piece about what you're doing, especially if it's heart warming.
About the author: William Hall is a seasoned business coach specializing in branding, social media and promotional events. William has spent his career teaching businesses of all sizes how to stand out in the crowd while using marketing dollars most effectively. His clients are continuously thankful for his out-of-the-box ideas that lead to increased revenue, more clicks and a bigger online presence.