As many business owners know, if you pitch your product or service to everyone, you may end up selling to no one. Figuring out your niche market – where you fit in- gives you precise direction on where to cast your marketing net. Traditional wide-net advertising (radio, tv and print) are great for letting the public know you exist, but there are often enough holes in such marketing tactics that many potential client sources are missed.
What is a niche market?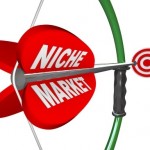 A niche market is a specific sector of a larger audience. It should consist of specific products/services for a specific group of customers. For example, if you sell artist supplies, your niche might be brushes designed specifically for professional painters.
Choosing a niche market
I find that one of the biggest mistakes a startup can make is not defining their niche market before they launch. Startups tend to be overly full of excitement and confidence that can land them in the category of "messy." By defining a niche market from the beginning, you are able to laser focus your energy, time and finances to success. I love niche markets because it allows the business to set themselves apart from competition as an expert in their industry while developing more intimate relationships with customers.
Stand out, be different
Practically every industry you can think of is saturated with companies offering the same (or similar) products and services. If you're not doing something different, something amazing, people have no reason to buy from you. When choosing your niche target market, do research and see what needs of this niche market aren't being met by your competition and then meet it!
Multiple niche markets
Under rare circumstances, a company may succeed by targeting only one niche market. It's common to see these companies revenue top out, once they have saturated their own market. Once you've tapped into one niche market and it's working, don't be afraid to tap into additional niche markets. I prefer to keep my niche markets relative so that they can benefit each other. For example, let's say you make and sell a diverse line of children's clothing to small boutiques. While you sell many different types of children's clothes, you've had great success in your niche market of children's sportswear. You're looking to expand into a new niche market. The big question here is, do you continue to push your sportswear collection to a different type of store, or do you find a new market for a different division of your clothing? Where can you make make the most impact with your relationships and expertise?
About the author: William Hall is a seasoned business coach specializing in branding, social media and promotional events. William has spent his career teaching businesses of all sizes how to stand out in the crowd while using marketing dollars most effectively. His clients are continuously thankful for his out-of-the-box ideas that lead to increased revenue, more clicks and a bigger online presence.